# 2 April 2018
Dear HighEFF Friends
Our 3rd Annual HighEFF meeting is around the corner, and at present moment we have 57 participants on our lists- but there are still room for more!


Historically these meetings are great arenas for knowledge building- friendship and teamwork, giving you the opportunity to get to know new interesting people and solving your next challenge.


2017 has been a fruitful year for the Centre with 14 PhDs and Postdocs already employed within the Centre, and several publications and media contributions about new energy efficient industry solutions are obtained. Highlights and facts are to be found in the HighEFF Annual Report 2017.


I wish you a pleasant reading!


FME HighEFF Center Director
Energi21
The Norwegian Energi21 strategy is currently undergoing a revision and before Easter a version was published including an invitation to give comments to this. FME HighEFF sent a note describing some of our main points and focus areas for this revised strategy.


HighEFF Annual report 2017
HighEFF had its first year of operation in 2017, and we are well underway with our work.


The first annual report was just released, and this is what Centre Director Petter Røkke had to say about it:


"In this report you can see that we are starting to fulfil our vision, which is a joint effort for creating a competitive, energy efficient and environmental friendly industry for the future".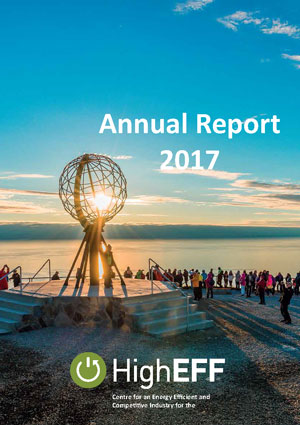 FME HighEFF – Annual Consortium Meeting 2018
The HighEFF Annual Consortium Meeting will take place the 2 and 3 of May 2018 in Trondheim.


HighEFF Contacts:
How to get informed
Our website is up and running. We will use the website to announce upcoming events and workshop, meetings and conferences, news and results. I hope you will find the website interesting and informative and that you will use it frequently.