# 1 - 2019
Dear HighEFF Friends
We are already well into a new year and inspired by input from all of you, HighEFF arranged the yearly RA/WP leader meeting focusing on innovation and how we can structure our work to fulfil our ambition on being a platform for innovation in industrial energy efficiency. In this workshop a total of 25 potential innovations were presented and discussed - innovations that we hopefully will see large impact from in the future.


This newsletter includes some recent news regarding one spin-off project, some comments from the Workshop and the upcoming PhD/PD seminar in February. You will also find information about the self-assessment of the Centre which will be carried out in January-March. Please note that all user partners are expected to give feedback on a questionnaire for this self-assessment.


Looking forward to a fruitful HighEFF year in 2019!


FME HighEFF Center Director
HighEFF Spin-off project
PREMA - Reduced CO2 emissions and consumption of electrical energy in Mn-alloy production

PhD/Post.doc Seminar in HighEFF
Following a tradition that was started in March 2018, the annual Internal PhD/Post.doc Seminar will be organized Monday 25 February in C201, Department of Energy and Process Engineering. The program will consist of shorter and longer presentations by current PhDs and Post.docs in HighEFF, as well as a few invited speakers.


The main objective of the Seminar is exchange of ideas across Research Areas (RAs) and Work Packages (WPs) as well as to get to know each other and build network. The Seminar is a one full day event and is of course open for Research Partners and Industrial Partners of HighEFF. A detailed program will be distributed later.
Participants at the 2018 seminar.
Self-assessment
All FMEs have been notified by the Research Council to perform a self-assessment, and HighEFF will carry it out in January-March 2019. The goal of the assessment is to review experiences from the first two years, and have the opportunity to make corrections early in the centre lifetime.


All user partners will receive a questionnaire in January. Your opinions will, together with input from our Executive Board and possibly others, ultimately result in a report summarizing what we have found.
HighEFF working on Innovation Task Force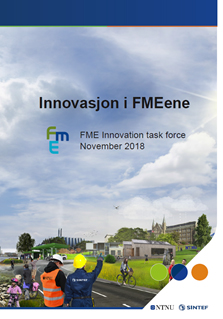 One of the main goals in HighEFF is to

become a platform for innovation in industrial energy efficiency to encourage innovations and contribute to value creation and increased competitiveness for the Norwegian industry.


Interaction between user industry, Research & Education, and vendors & technology providers is essential for making this happen. 2019's first RA and WPL meeting was dedicated innovation, an important task for HighEFF to fulfill.


Innovation Task Force has been a cross FME Centre activity, led by Sigmund Størset (SINTEF). Sigmund presented the results from the report on "Innovation Task Force" prepared by experts from NTNU and SINTEF, to motivate and inspire the FME Centers to focus on Innovation in the Centre.

Five advices are given to facilitate innovation in the FME's:
Dedicated management team
Innovation plan
One innovation leader to follow up on the innovation plan
A tool for methodical collection of innovation
Make the innovations visible through communication and dissemination, and show the socially beneficial of the innovations.
Potential innovations and highlights from HighEFF research areas were presented by the RA and WP leaders. One example is an energy recovery concept with integrated thermal buffering for mitigation and utilization of transient conditions where HighEFF researchers are working on the development of integrated ERS for

flexible and efficient supply of both heat and power, including heat recovery, energy storage, power production and heat export. The presentations showed a list of apprx. 25 innovations in total indicating a good progress in the Centre so far!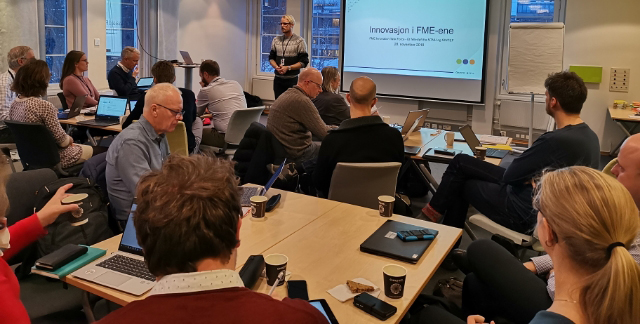 Sigmund Størset presenting the report.
HighEFF Contacts:
How to get informed
Our website is up and running. We will use the website to announce upcoming events and workshop, meetings and conferences, news and results. I hope you will find the website interesting and informative and that you will use it frequently.