Season's greetings to all,
Norway launched a new major wind power research centre recently. Its aim will be to make wind power cheaper, more efficient and more sustainable. Read more about it and about why such investments are important right now.


The term "CCS" has a branding problem. It means different things to different people. This can be a problem when trying to get the general public to see the value of the technology. We discuss potential solutions.


Read on for these stories and more results from the world of SINTEF Energy Research...
Norway launches major wind power research centre
The Norwegian Minister of Petroleum and Energy, Tina Bru, announced an investment of 120 million NOK (11.3 million EUR) in a new wind power research centre in Norway. The NorthWind research centre will be at the cutting edge, working on innovations to make wind power cheaper, more efficient, and more sustainable. One of the centre's main priorities will be offshore wind research. ... Read more
CCS Has A Branding Problem — We Need A Solution
CCS means many things to many people, both inside and outside of science and industry. Here at SINTEF, we refer to the collective technologies of CO2 capture, transport, and storage as CCS. What does CCS mean? … Read more
Join the world's top researchers and innovators in deep sea offshore wind energy
Meet and discuss with fellow experts and innovators at the special all-digital 2021 edition of the EERA DeepWind conference, January 13th to 15th. The event has moved global and online because of the current pandemic and the discussions promise to reach a new high with over 90 submissions received. ... Read more
Knowledge is a dish best shared
Four years have passed since the first seeds of CINELDI, the world's largest research centre on Smart Grids, were sowed. The centre's work is only half complete, but we are already seeing the first fruits. ... Read more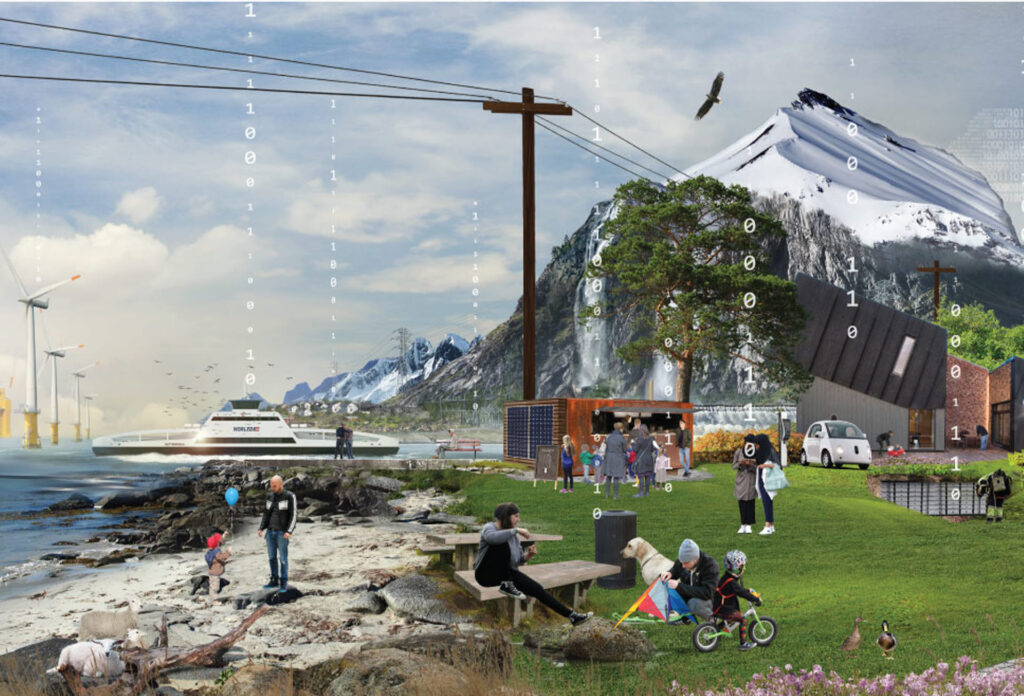 IoT based monitoring for power grid components
State of the art sensor technology and communication networks allow new ways of condition monitoring, control and maintenance in the power grid. The use of new sensor and communications systems is often called … Read more
Local electricity markets:
Neighbourly help as a driver for sustainability
The smart grid of the future may mean that your electric car has a work meeting with your neighbour's washing machine while you're away. The idea is to optimise energy use at the local level, … Read more
Integrated energy systems: a promising way
to help meet cities' ever-increasing power needs
Electrification is increasingly being promoted as a measure to reduce environmental impact. But the complete electrification of our current energy consumption would require the Norwegian electricity production to increase by over 50%. … Read more
Security of electricity supply in the future
flexible and intelligent grid
The energy system is changing as electrification of transport and other sectors is moving forward. In a full-electric society of the future, a secure electricity supply is of utmost importance. … Read more
Cruising Towards Zero Emissions
The cruise industry has a lot to deal with right now, but the long-term emissions challenges remain a priority. Much work has gone into alternative propulsion, but other opportunities remain. A new research project aims to address emissions-reduction in the onboard hotel facilities. … Read more
The Time Is Now To Invest In Offshore Wind R&D
If we are to reach the challenging goals of the Paris Agreement, developing and growing a sustainable industry of renewable energy is a must. While many great technologies are competing for attention, hurdles remain, especially when it comes to cost. With that in mind, offshore wind has emerged as one of the most promising renewable energy technologies. … Read more
Is heating with wood eco-friendly?
Winter is upon us once again, and with it come questions and opinions about heating with wood. Is it eco-friendly? Is it climate-friendly? SINTEF has been striving for many decades to improve the eco and climate-friendliness of heating with wood. … Read more
Wind farm control: a promising way
to increase green power
What if there was an inexpensive way to improve wind farms' efficiency? This is exactly what the FarmConners project aims to achieve: more green power from existing and upcoming wind farms, all for the price of a software update. … Read more
Unveiling the Dynamics of
CO2 Injection into Underground Storage
A new paper from the ACT ELEGANCY project describes the development of a new computer model designed to replicate fluid dynamics in a well and the near-well reservoir. The results will help CO2 storage engineers better understand the temperature and pressure changes and their impact. … Read more
Open source code: Thermopack software perfoms thermodynamic calculations
Thermodynamics is a core topic used to describe the nature around us, or process equipment in the industry. A typical task one is faced with in thermodynamics is that the temperature, pressure and composition of a fluid are known, but how dense the fluid is, how much … Read more
How Cities Can Use Biochar to Build Carbon Sinks
Cities all around the world have a challenge to manage organic residues from society. Among other things, waste from park and gardens can be used to create much-needed biochar, which minimises environmental impact of waste while establishing a vital carbon sink. Researchers from several Nordic countries have formed the Nordic Biochar Network … Read more
Protecting the Power Grid from Solar Storms
Understanding the potential impact of solar storms on ageing power grid infrastructure will help us put in place tools and processes to minimise that impact. … Read more
Why Science Communication Matters
In a world of polarised politics, a distrust of the media, and where fake news can reach millions of people quicker than ever before, science communication matters more than ever. I am fiercely proud of all the great work done by our scientists year-round, but I'm also proud of our communications team. I'm thrilled to announce that SINTEF just won … Read more
NEC INTERCUR: Integrated Energy Systems
for Industrial Clusters
The new industry-research collaborative project NEC INTERCUR aims to develop a strategic decision-making tool for industrial clusters. How industrial clusters can help tackle our greatest challenges "One man's trash is another man's treasure." … Read more