AI NEWS FROM EUROPE!
The main purpose of the NAINE network is to contribute to increased number of EU proposals within AI involving Norwegian institutions. NAINE is open for everyone in Norway interested in AI and national and European collaboration.
Industry representation in NAINE
In august 2020, Ieva Martinkenaite, joined the NAINE core group for a closer link with AI environments in Norwegian industry. Through her position as VP, Analytics & AI at Telenor, Martinkenaite has significant experience with several aspects of AI, and she has also contributed actively to the definitions of ethical AI in Europe through her membership of the European Commission High Level Expert Group on AI. We are looking forward to working with Ieva in the future.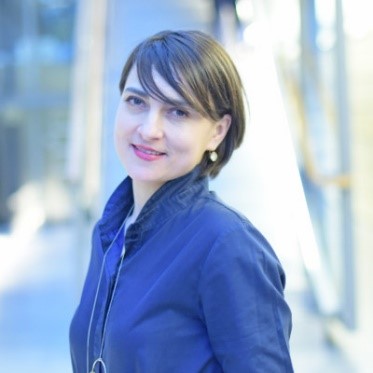 Upcoming NAINE event
Webinar Monday 2/11 at 13-14h (Norwegian)
Hvordan kan norske bedrifter få best effekt av EU-forskning?
EUs støtteordninger for forskning og innovasjon for bedrifter – Till Lech, SINTEF
AI4EU – Sigmund Akselsen, Telenor
Cognitwin – Are Dyrøy, Hydro

DEMETER - Harald Volden, Mimiro
Oppsummering
Reports from recent events
"AI, data and robotics – building wider synergies around Europe session", European Research and Innovation Days, September 22, 2020
Report by Signe Riemer-Sørensen, researcher, SINTEF Digital
The development of a European partnership on AI, data and robotics is progressing towards a memorandum of understanding to be signed in 2020, and the initiators (BDVA, CLAIRE, ELLIS, EuroAI, EuRobotics) are already providing input for the work programme of Horizon Europe. However, the final governance is still under development.


Thomas Hahn

(

President Big Data Value Association) and Cecile HUET (Deputy Head of Unit Robotics & Artificial Intelligence at the European Commission (DG CNECT)) presented the purpose presented the third and newest version of the Strategic Research, Innovation and Deployment Agenda. The latest round of feedback included approximately 200 feedbacks within the deep dive into AI. It is still possible to provide feedback and input for the SRIDA, but if you want to contribute, please start by reading the SDRIDA (quote Thomas Hahn). Initially, there will be four prioritized areas: Healthcare, Agriculture, Smart communities, Smart manufacturing.


There were multiple questions regarding alignment of the various European initiatives on AI. Cecile Huet answered that they have a team trying to coordinate the AI pillar of the Digital Europe

Programme

and the AI part of Horizon Europe and the AI, data and Robotics partnership. Both to avoid overlap and to create synergies. Horizon Europe will cover research and innovation, and some piloting, whereas the new Digital Europe programme will cover testing and deployment. But the purpose of the partnership is not only to provide input for Horizon Europe, but to make Europe the place to be for both researchers and investors. The partnership will be very inclusive and open to all kinds of stakeholders such as private partners, academia, industry, civil society, NGOs etc. The partnership will not be based on direct funding from the member states as it is a co-programmed partnership, but there will be some expectations that local initiatives are aligned with the ones from the partnership/the European Commission. There is also a close dialogue with data communities.


Brief news
Norway to join Digital Europe
Useful links and tips
Upcoming events
Feel free to contact us with events to be included in the next newsletter.
The core group in NAINE is:
Anne Marthine Rustad – SINTEF Digital
Signe Riemer-Sørensen – SINTEF Digital
Anders Løland – Norsk Regnesentral
Søren Kragholm – Universitetet i Agder
Jim Tørresen – Universitetet i Oslo
Ieva Martinkenaite - Telenor